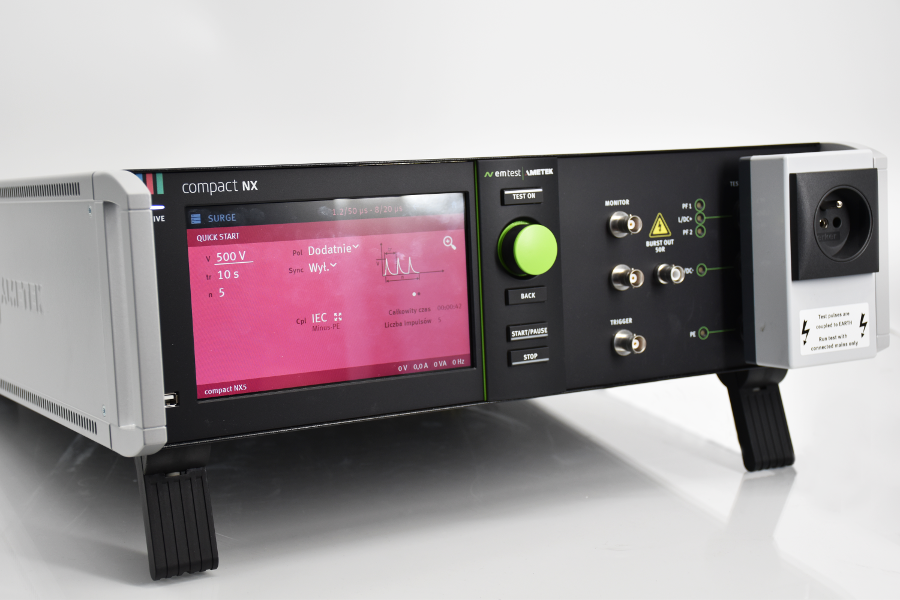 The laboratory tests the equipment, systems, and plants for conformity with the EMC Directive and the relevant harmonised European standards, both prototypes and market-ready products. Up to ±5.5 kV (EFT/B), up to ±5 kV (Surge) and up to 30 kV pulses generators for ESD are available in the Laboratory.
Single- and three-phase artificial networks with rated currents of 16 A, 25 A and 32 A (for conducted emission measurements) are also available.
Tests for immunity to the following disturbances:
(ESD) electrostatic discharges according to EN 61000-4-2,
series of electrical fast transient burst EFT/B according to PN-EN 61000-4-4,
electrical high energy surges of 1.2/50 µs (8/20 µs) according to EN 61000-4-5,
sinusoidal conducted, induced by radio frequency fields (0.15÷80) MHz according to PN-EN 61000-4-6,
power frequency magnetic field according to PN-EN 61000-4-8,
impulse magnetic field in conformity with PN-EN 61000-4-9,
voltage dips, short interruptions and voltage variations according to PN-EN 61000-4-11.
Testing and measuring of disturbance emissions:
measurement of conducted emission within 0,15 – 30 MHz for power supply and interface circuits,
measuring of radiated emissions using near electromagnetic field probes (identification of the interference sources inside the devices and electromagnetic leaking of the device enclosures).