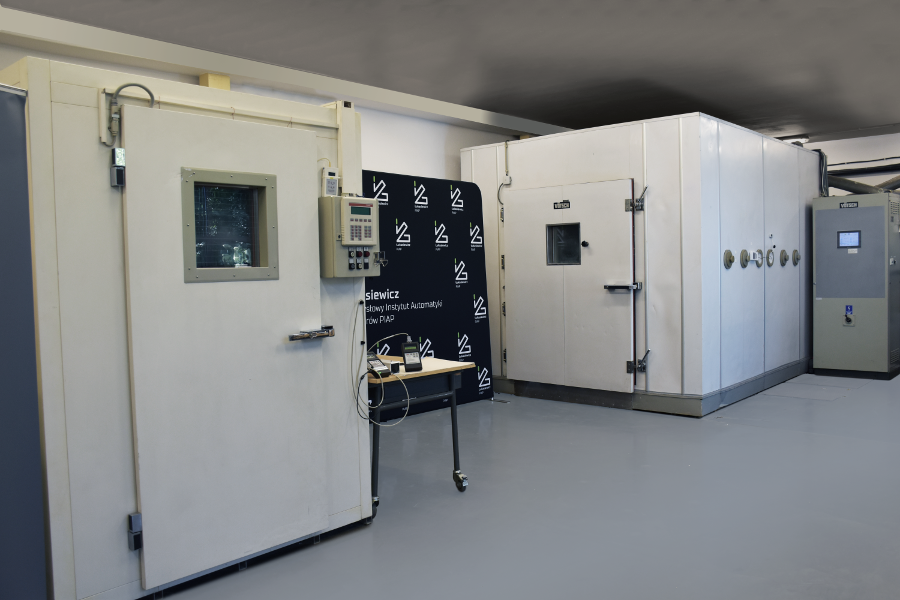 The Laboratory offers climatic testing within temperature ranges -50°C to +85°C and relative humidity from 10 %RH to 95 %RH, including exposure to thermal shocks using two climatic chambers. We have a climatic chamber that provides a test volume of 12 m3 for testing large equipment.
Climatic chamber testing:
Test A: Cold to -50 °C as per PN-EN 60068-2-1,
Test B: Dry heat to +85 °C as per PN-EN 60068-2-2,
Test Cab: Damp heat, steady state as per PN-EN 60068-2-78,
Test Db: Damp heat, cyclic (12 h + 12 h cycle) as per EN 60068-2-30,
Thermal shock using two climatic chambers,
Tested products
Industrial automatics components, devices and systems and other electric and electronic products.
Tested features (properties)
Product resistance and/or strength tests in operating, transport and storage conditions including:
additional instrument error,
functional characteristics,
operation in exposure conditions (resistance test), before and after exposure (strength test).
Tests parameters are determined based on subject or product standards, with due regard to the capabilities of the measuring and testing equipment for environmental testing.